Rigid packaging
IPL has decades of experience designing our packaging solutions which consider all aspects of your operations to maximize performance while minimizing costs and environmental impact.
With global reach and expertise, we can respond quickly to your unique needs with first-hand knowledge of your local market. We partner with customers across a variety of sectors including pharmaceutical, food and material handling, lubricants, agricultural, and adhesives & coatings to name a few.
Round and Square Pails
Nov 13, 2019, 14:30 PM
Our lightweight and highly durable pails are the selected solution for many customers with complex needs. They are suitable for liquids, rugged products, dry products or chemicals.
Lightweight and highly durable pails for liquids, dry or chemical products.
Title :
Round and Square Pails
Select an Availability :
Worldwide
Polypropylene
Lightweight and offers superior properties in top load compression
Skin-integrated break tab protects your product against unwarranted opening
High-Density Polyethylene
High impact performance even when frozen and resistance at high temperatures
Top-loadable pails designed for the most demanding applications
Optional rubber or liquid gasket available on selected lids, ensuring your product stays intact and eliminates spills
Tamper-evident tear strip available on selected lids
Dry offset decoration available
Photo quality injection-molded labelling is available on selected items
Leak-proof even with repeated use
Variety of sizes and capacities available
Round or square containers ensuring you use space more efficiently
100% recyclable
Scratch, water and age resistant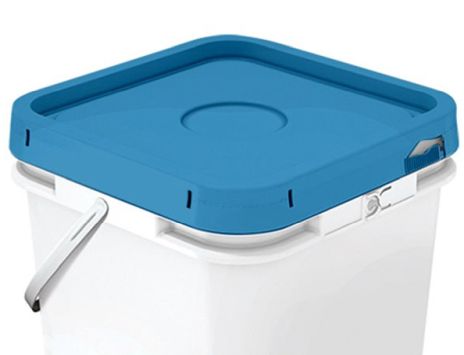 Related Industries :
Related Categories :
Other products in this category
Rigid Packaging Pots
Rigid Packaging Tubs
Sweet Tubs
Paint Buckets