Our history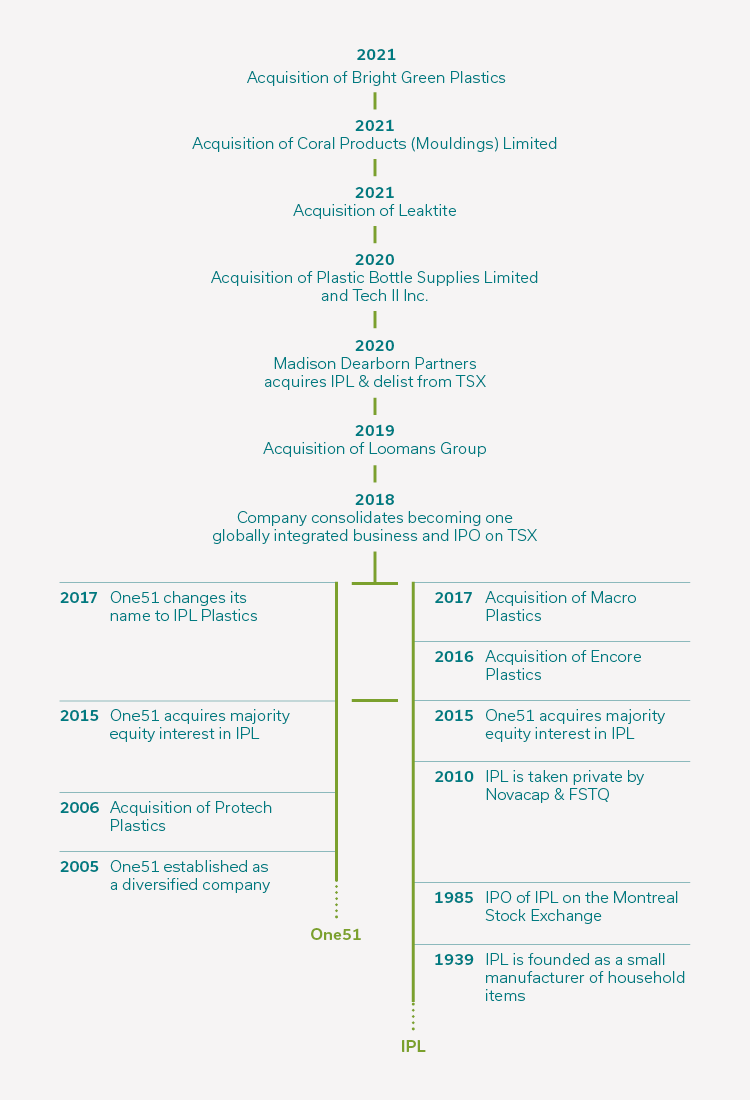 One51
2005: One51 established as a diversified investment company
2006: Acquisition of Protech Plastics establishing the Plastics Division of One51
2011: Adoption of an action plan to transform One51 from an investment company to an operations-focused business
2014: Acquisition of Straight, a key supplier of environmental containers in the U.K.
2015: One51 acquires a 67% majority equity interest in IPL with CDPQ (22%) Fonds (11%) as minority shareholders
2016: Disposal of One51's Irish metal recycling business
2017: Refocus of operations on Rigid Plastic with the disposal of Clearcircle environmental services business. One51 changes its name to IPL
2018: CDPQ and Fonds exchange their minority equity interest into shares of parent, effectively consolidating the company. Global refinancing of all credit facilities under parent company
IPL
1939: IPL is founded as a small manufacturer of household items
1985: IPO of IPL on the Montreal Stock Exchange
2010: IPL is taken private by Novacap & Fonds
2011: Acquisition of Plastic Enterprises Co., expanding Consumer Packaging Solutions capacity
2015: One51 acquires a 67% majority equity interest in IPL with CDPQ (22%) Fonds (11%) as minority shareholders
2016: Acquisition of Encore Plastics expanding its Large Format and Environmental Solutions capacity
2017: Acquisition of Macro Plastics a leading manufacturer in returnable packaging solutions
2018: CDPQ and Fonds exchange their minority equity interest into shares of parent, effectively consolidating the company. Global refinancing of all credit facilities under parent company
2019: Acquisition of Belgian Loomans Group - expands geographic reach, customer base and engineering capability
2020: Madison Dearborn Partners acquires IPL & delist from TSX
2020: Acquisition of Plastic Bottle Supplies a specialist manufacturer of blow molded bottles located in the UK
2020: Acquisition of Tech II a leading manufacturer of overcaps and lids in North America
2021: Acquisition of Leaktite a leading player in the manufacture and distribution of pails to the retail sector in the US
2021: Acquisition of Coral Products (Mouldings) Ltd and Interpack Limited, manufacturers and distributors of plastic and blow molded products
2021: Acquisition of Bright Green Plastics, a manufacturer of recycled resin (PP and HDPE).
---
Find out more about our products or contact a member of the team.